2012
01.24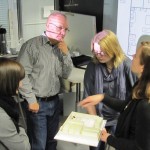 In late 2011 we had a one day workshop for a caravan equipment sales and maintenance service company Reatalo, from Rovaniemi. Our workshop was a part of their bigger project, that aims to renew the interior of their premises.
In Sinco, we took a quick look into their service environment, and by prototyping the existing service journey of their customers we found some keys to prioritize needs for change in the service as well as in the shop layout. Also the new, upcoming interior & shop layout was brought into existence through service prototype with visualizations rendered from a virtual 3D model of the space.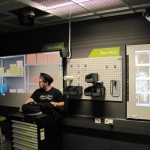 After the prototyping workshop day, the company representative Matti Kähkönen was convinced that prototyping helped to concretize and get a grasp of changes in the service. Also the textile design students, who participated to the prototyping session were positive about presenting their ideas in Sinco prototype, giving a better view over their intentions for the new interior design.
Thoughts of Reatalo representative Matti Kähkönen after the workshop: