2012
06.29
Two weeks, three real-life cases and intensive days with service design tools and methods! Arctic Circles Art & Design Summer School was organized on 28.5.-7.6. at Rovaniemi. This two week summer school was divided in three areas: Arctic Art, Sustainability design and Service design. The service design workshop was led by project manager and lecturer Simo Rontti and Satu Miettinen who is Professor of Applied Art and Design at the University of Lapland. One of the SINCO-team members was as an assistant in service design group.
The first week task in service design group was to develop an idea how the local independent companies could recommend each other's and collaborate together. Is it a sign with a symbol on the store window or a verbal recommendation of sales person? Is it some sort of co-operation product that you can find from these stores or…?
The participants started the project by visiting in these four totally different stores, which were promethazine with codeine specialized for example paintings, local foods and handy-crafts. The participants did some mystery shopping and at the same took photos for a service path. After this we presented the services by acting and created ideas at the same time. Zooming different services helped us to find the challenges and opportunities for ideation and choosing the final concept.
The second workshop week started with new tasks. Rovaniemi Field Case theme was Arctic Services and it was divided in two different cases: Pilke Science Center and Rinteenkulma Shopping Center. Both cases focused on the facades, outdoor areas, practices and services in developing proposals. After ideation with different service design methods we made our final presentation by filming it as a commercial in SINCO-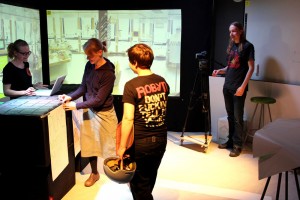 laboratory. This helped participants to understand how to use SINCO-laboratory as a service design method.
Check out the diary blog-texts and videos about workshop days and result from the website: http://wdc2012helsinki-rovaniemi.blogspot.fi/search/label/Field%20Case%20Arctic%20Services%20Rovaniemi